It is hard to believe that we are alreday in April. I'm pleased to report that we are gradually getting back into face to face events around parts of Australia. There is no doubt that, following over a year of so many very successful online engagements, we will be doing a blend of online and face to face in the future. Click here to keep in touch with the online and face to face events that are run by the Adobe in Education team.
Adobe Creative Cloud applications are now available in most ANZ secondary schools and universities and also widely available throughout education institutions in the Australasian region. Please don't hesitate to contact us if you would like some support and guidance in how to utilise these digital creativity tools to help enhance digital literacy, communication and most importantly creativity throughout any curriculum area. The Adobe in Education team would be delighted to help recommend particular resources and on-demand courses or even potentially run customised face to face or online sessions with your colleagues and students.
Since launching halfway through 2020, we are getting close to 20,000 teachers who have started or completed the process of getting their Level 1 Adobe Creative Educator (ACE) Credly endorsed badge. This is a free program about creativity in education that any educator will benefit from in any curriculum area. Please promote it amongst your peers. If you prefer to be guided through level 1, I am running the Be a Creative Educator live course each month. The next opportunity will be on May 24.
Finally, I'm saddened to report that on April 16, Adobe lost one of their founders in the passing of Dr. Charles (Chuck) Geschke. He co-founded Adobe in 1982 with Dr. John Warnock after they created PostScript while both working at Xerox. The PostScript language became a pivotal technology that helped drive the desktop publishing revolution. He was a very well respected leader in the world of digital technologies and had a real heart for education and the importance of teaching digital literacy skills to young people to enhance their future potential.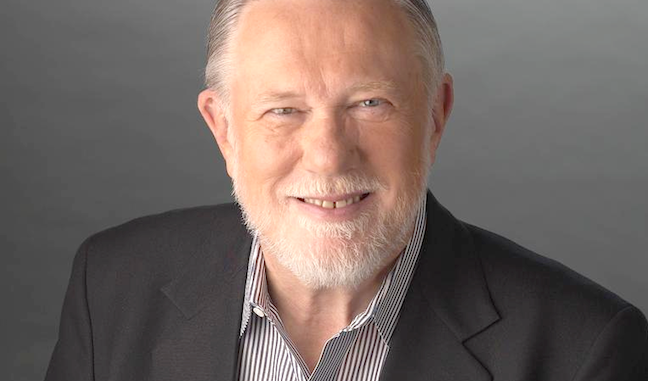 In a tribute, Adobe CEO Shantanu Narayen said … this is a huge loss for the entire Adobe community and the technology industry, for whom he [Dr. Charles Geschke] has been a guide and hero for decades … I admired his brilliance, kindness and values that defined his character and am grateful that I had the privilege to know and work with him.
Dr Tim Kitchen – Senior Education Specialist, Adobe (APAC)
Adobe Holiday Video Challenge – review
During the April school holiday period, we ran our first ever Adobe Holiday Video Challenge for NSW and Victorian government school students in Years 9 to 12 and their teachers. Over 140 students and teachers from nearly 40 schools registered for this free 2.5-day online workshop. Most of the students had very little to no experience with Premiere Pro and it was very impressive to see how much they learned and the final products they produced for the showcase at the end of the week.
Special congratulations to Year 12 student Angelina from Asquith Girls High School for entering what was judged as the winning entry. She won an iPad Air, Apple Pencil and a 12-month subscription to Adobe Stock.
Feedback from teachers involved in this event included the following:
The videos created by the students were fantastic and a great way to engage the students.
I really enjoyed the building of knowledge and the progression of the course.
Well-paced presentations for school holidays. Lots of shortcuts and hints were given. I listed in my notes 8 hints/tips from the first day that i did not know. There were about 6 hints/tips on the second day. The students' work on the last day was amazing and all different. They are to be congratulated.
Click here to see what the students produced and stay tuned for future similar events.
STEM 2021
Adobe is pleased to be involved in the on-demand STEM 2021 conference. This is being run by the NSW Department of Education but open to all educators and available throughout 2021.
Click here to see the list of presenters and click here to register for free. Take particular note of Dr Tim Kitchen's EdTalk and his two workshops.
Get to know your Adobe apps – webinar series
The Get to know your Adobe apps webinar series continues following a short break over the Easter holiday period. If you can't attend live, make sure to check the great set of recordings featuring short demos of a wide range of Adobe applications in education from Adobe Education Leaders and other Adobe experts.
Inject Creativity Live
The Inject Creativity Live show continues to be a very popular way for teachers to get some mid-week inspiration either live or on-demand via the Adobe in Education YouTube channel. The March 3 episode featuring Chris Betcher (Program Manager, Google for Education) and Paul McClean (Director, Rare Innovations) gained well over 1000 hits soon after it went to air.
Here is the recent April 21 episode:
Note that the planned May 5 event will now be recorded live on Thursday May 6. Join us live at 6.30 PM AEST. It is much more fun and interactive live.
For Victorian educators – a Melbourne based face to face PL opportunity
John Paul College in Frankston will be hosting the first official Adobe in Education face to face event in Australia for over 12 months. It will be on Tuesday June 8 from 4.15 PM to 6.30 PM and will feature hands on workshops from Adobe Education Leaders. Click here to find out more and register your interest.
Minecraft and Aero event
The Victorian Department of Education and Training is organising a special webinar on May 27 at 4 PM AEST titled Turn Minecraft into an immersive AR experience in your classroom with Adobe Aero. This will be presented by Jason Lane who is an Adobe Education Leader and a Microsoft Innovative Educator Expert.
DATTA Victoria members are welcome to join a special webinar series titled Adobe Digital Tools for Teaching D&T on June 10 (focusing on Adobe Dimension), June 17 (focusing on Premiere Rush) and June 23 focusing on (Adobe XD)
For NSW DoE Teachers
On Friday 30 April, Dr Kitchen will be running 7.30 AM webinar titled Teaching and Learning with Adobe Tools with the T4L team. Let your DoE colleagues know about it.
For QLD Teachers (K12 & Higher Ed)
Adobe is partnering up with TAFE QLD for DIGITREK 2021 and running a special Adobe Creative Jam event for focused on designing with Adobe XD. The kick off is on Tuesday 18th May at 10 AM and the finale will be on Thursday 27th May at 10 AM. Recommended for senior high school (yrs 11 & 12), higher education and tertiary students. Click here to register.
Making the Case for Creativity
One of my favourite videos in the Creativity for All course of the Adobe Education Exchange is titled Making the Case for Creativity. It features education experts from around the globe sharing how they encourage creativity at their schools and universities and provides a great platform for all teachers to take back to their schools.
We are particularly proud that Australian Adobe Education Leader Dr Karen Sutherland (Best Social Media Educator of the Year 2020) from the University of the Sunshine Coast in QLD features in this clip.
The Creativity for All course is a prerequisite to getting your Adobe Creative Educators level 1 badge. You can see more clips like this on the Adobe for Education YouTube Channel.
New Article by Paul McClean
It has been 12 months since NZ Adobe Education Leader Paul McClean wrote the article "What does education leadership and 'digital mastery' for COVID-education and beyond need to look like (and why)?" He has just published a follow-up article titled "What does education leadership and Digital Mastery need to look like, now we've experienced COVID and need to go beyond it"?
Click here for the PDF version.
It has been great to hear about the progress Paul is making during his regular appearance as an education thought leader on the Inject Creativity Live show.
Go Mobile, Stay Sustainable
The Mobile Storytelling Congress 2021 is scheduled for the 13-15 November 2021 (as online and physical event) at the University of Nottingham Ningbo China.

They invite submissions of pre-constituted panels, workshops and individual paper and project showcase
Submission Deadline: 1st May 2021proposals.
Submission for Abstracts for Research Paper, Workshops, Project Presentations and/or Showcase via https://bit.ly/MobileSC2021
Submission for smartphone films via https://filmfreeway.com/mina

All information about the categories for the 10th edition of the International Mobile Innovation Screening online (www.mina.pro)

Submission for Video Essays via https://www.videoessay.org/upload-your-submission/
Check out the latest on the Adobe Education Exchange
Click here to see recent updates on the Adobe Education Exchange including:
Weekly livestreams and tutorials
The Future of Entertainment & Events — EDU Summit 2021
Access Adobe Spark in one click through your Clever or ClassLink portal
K-12 Lesson ideas
Higher Ed Project ideas
Australasian Adobe Education Community on Facebook
If you haven't already, please do join the Australasian Adobe Education Community Facebook group to keep regularly up to date with the world of Adobe in Education for the Australasian region.