Inject Creativity Live – YouTube show
We kicked off the 2022 Inject Creativity Live season with a wonderful episode featuring great links between Adobe, Microsoft and Google in Education. Have a look this episode and register in advance of future recordings for reminders and recordings.
Click here to see (Adobe Education Leader) Erin Raethke's summary about this episode. Made live while recording and co-hosting with Adobe Creative Cloud Express.
---
Other stories in this newsletter
---
Adobe Creative Cloud Express resource
We have had great feedback about the value of our new Adobe Creative Cloud Express resource that is aimed for teachers and students with practical video tutorials and PDF user documentation.
---
Adobe TeachMeets
The Adobe TeachMeets program recommenced on Feb 16 & 17 with ten outstanding online workshop breakout options led by Adobe Education Leaders. The next opportunity will be on March 30 & 31. Click here to find out more and share these opportunities with your colleagues and wider networks via – https://adobe.ly/teachmeets
Click here to see the recording of the start of the Feb 16 TeachMeet session to get a taste of what they are all about.
---
Be a Creative Educator
The Be a Creative Educator course is a live course led by Dr Tim Kitchen and Erin Raethke that guides teachers through the process of becoming an Adobe Creative Educator (ACE). If you miss the Feb 21 course, the next opportunity is Tue 22nd March and Thurs 28th April. Click here to register and find out more.
Note that you can become and Adobe Creative Educator at anytime on-demand by doing the Creativity for All Course on the Adobe Education Exchange.
---
Special events for NSW & Victorian teachers & students
Click here for Adobe Teacher Professional Learning events for NSW Department of Education teachers in 2022
Click here for Adobe Teacher Professional Learning events for Victorian Department of Education & Training teachers in 2022
Click here to register your Year 5-9 students for a 2022 Adobe Creativity Challenge
April 2022 Holiday Premiere Pro video intensive workshop for Vic & NSW students and any teacher
Victorian and NSW teachers are encouraged to register themselves and their (Year 9-12) students for the April 2022 Holiday Video Challenge. This is a free and online 2.5 day intensive workshop with Adobe Premiere Pro. No prior experience is required other than a interest in taking video production to the next level with this industry standard software.
Share this opportunity with your Vic & NSW teaching colleagues via – adobe.ly/video-workshop22
---
Special Creative Cloud webinar hosted by DLTV
All teachers are welcome to register for a special webinar on March 21 at 4 PM AEDT titled Making use of creative tools for the classroom: Adobe Creative Cloud Express. Click here to find out more.
---
Have a look and share this video about Adobe in Education with your colleagues & wider networks.
---
National Education Summit – Melbourne & Brisbane
Adobe is proud to be involved in the 2022 National Education Summits planned for Brisbane & Melbourne.
Click here to find out more about the Melbourne event on June 17 & 18 and here for the Brisbane event on August 5 & 6.
Have a read of Dr Kitchen's article about Creativity in Education that was published in advance of these conference events.
---
EduTECH 2022
Adobe is a Gold Sponsor of the 2022 EduTECH Conference which will be held as a face to face event in Melbourne on August 10 & 11. Sign up for the Adobe presentation and workshop and make sure you visit the Adobe stand and say 'hi' in person to the Adobe Education Team.
---
Kick-start creativity with Adobe and Khan Academy
Explore more than 100 free activities and projects that combine Khan Academy content with Adobe tools. Click here to find out more.
---
Design captivating classroom posters with Adobe
Whether your goal is memorisation, decoration, or creative inspiration, our collection of poster templates makes it easy to create your own in minutes. Click here to find out more.
---
New Adobe Fresco course
Promote visual learning and self-expression in your classroom
We've added Adobe Creative Residency artists' short video tutorials to our Adobe Fresco PD course to help you bring digital painting and drawing to your classroom. Click here to find out more.
---
New Adobe Creative Jam opportunity for Higher Ed students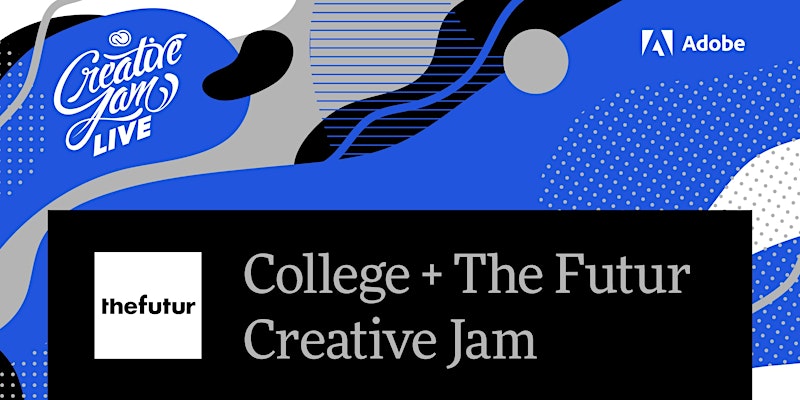 Pitch an idea alongside hundreds of college students in a beginner-friendly challenge! Click here to find out more.
---
New self-paced course on the Adobe Education Exchange
Whether you're using Photoshop or Photoshop Express, this short image-focused professional learning course can help you build and teach critical digital media skills in any classroom. Click here to find out more.
Click here for more updates about what is new on the Adobe Education Exchange
---
Introducing Adobe Live Shorts
New to Adobe Live? Get started with these bitesize ten-minute recap tutorials from leading Asia Pacific creators. Uncover the tools, techniques and processes that help them bring their ideas to life!
---
Adobe Design Circle Scholarships for Higher Ed
Adobe believes that young people should have the opportunity to learn and express themselves through creativity and technology, regardless of their economic or cultural backgrounds. A diverse design community that reflects the world around us is essential to our industry's future innovation and economic success.
The Adobe Design Circle Scholarships application is now open. Applications are due on Monday, March 14 at 11:59 PM Pacific Time.
Click here
---
Hear from creative educators around the world on our Instagram channel
Starting this month, we're kicking off a new series celebrating educators around the world — and we're keeping you posted with timely lesson plans and projects, classroom creativity tips, and more. Follow us.
---
Australasian Adobe Education Community on Facebook
If you haven't already, please do join the Australasian Adobe Education Community Facebook group to keep regularly up to date with the world of Adobe in Education for the Australasian region.
---
Don't hesitate to contact the Adobe Education team for any support.
Keep Being Creative!