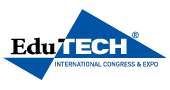 The EduTECH conference is the largest technology in education event in Australia with over 10,000 teachers registering this year. It was meant to be a face-to-face event hosted in Melbourne (for the first time) on 17th & 18th August however, due to Covid restrictions, it was again a virtual event – similar to last year.
Adobe was pleased to again be sponsoring this event and hosted a one hour seminar session on day two.
Here is the pre-recorded session that made up the bulk of that seminar. It features about 25 Adobe Education Leaders from around ANZ, members of the Global Adobe Education team as Rob the Robot (Character Animator puppet).
It was a delight to have Lauren Sayer Executive Director Research and Innovation at Melbourne Girls Grammar and Michelle Dennis, Head of Digital at Haileybury College. Also joining us was be Jerry Wong Customer success manager at Adobe, Jane Chen and Steven Nichols who are both Adobe Solution Consultants.